Urge your Senator to Stand with the Music Community by Supporting the Music Modernization Act!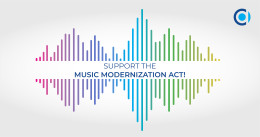 Urge Your Senator to Support Music Licensing Reform – Legislation that Will Enable Music Creators to Get Paid Fairly!
Dear Creators and Friends of the Creative Community:
The time is now to support music creators and the music community! Please contact your Senator today and urge him/her to support comprehensive Music Licensing Reform legislation. We've provided a sample letter below that you can send, or feel free to modify it or use your own letter. (To use our sample letter, simply scroll to the bottom of this page and input your street address and zip code. You can also call or direct message your Senator by clicking here.)
Why is this issue so critical to music creators and to the entire music community? The existing laws that govern music licensing are no longer working as intended for artists, songwriters, performers, music producers and record labels. For far too long, music licensing laws have been outdated, having been written more than a hundred years ago. The time has come for us to update these outdated laws.
On April 10, the Music Modernization Act (MMA) of 2018 (H.R. 5447) was introduced. The bill will result in the most significant improvement of music copyright law in more than a generation. It will help make it easier for creators across the music industry to earn a more equitable living through their creativity. The bill combines three very important bills:
the Music Modernization Act of 2017, a bill that would improve the compensation to songwriters and streamline how their music is licensed by creating a blanket license and a collective to administer that license, and make several improvements to royalty rate proceedings;

the CLASSICS Act, a bill that would enable artists who recorded music prior to 1972 to be paid royalties when their music is played on digital radio; and

the AMP Act, a bill that would enable studio professional to receive royalties for their contributions to the music they help create.
On April 25, the U.S. House of Representatives passed H.R. 5447 by a unanimous vote of 415 - 0 (yes, we said it was unanimous!).
Passing the House is a huge milestone, but it is not the goal. The goal is to have the Music Modernization Act passed into law and for that to happen there's still more work to be done – we need to get comprehensive music reform legislation passed by the Senate, and that's where we need your help! Please write, call or direct message your Senator today and urge their support for music licensing reform by clicking below – it's quick and easy! The important thing is to let your voice be heard on this important issue!
For more information, please see the following: