Tell Congress to Vote "Yes" on H.R. 1695 - a bill to Modernize the U.S. Copyright Office
Join the copyright community in supporting H.R. 1695, The Register of Copyrights Selection and Accountability Act of 2017 (RCSAA)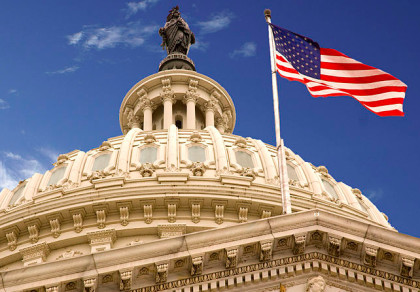 Tell Congress to Take the First Step Toward Copyright Office Modernization
The U.S. Copyright Office is at the center of our Nation's copyright system, but unfortunately, its technology has not kept up with the times. Creators and innovators rely on the Office to register their works, search for copyright ownership information, and understand copyright in general. It's time to make sure the Office has the tools and autonomy it needs to operate a 21st century copyright system.
On, March 23, a bipartisan group of Representatives introduced H.R. 1695, The Register of Copyrights Selection and Accountability Act. The bill would elevate the Register of Copyrights to a position appointed by the President with the Advice and Consent of the Senate to reflect the importance of the role and provide a more transparent and accountable selection process. The bill is only the first step in broader efforts to modernize the Copyright Office. But because the Copyright Office has been operating without a permanent Register since last October, it is urgent that this issue is addressed first so that those efforts can continue to move forward.
It is vital that Congress hears from creators about the importance of this issue. Organizations representing creators from across the spectrum of the creative community have already voiced their support. The Copyright Alliance encourages all creators to contact their Representative and ask them to support H.R. 1695, The Register of Copyrights Selection and Accountability Act.
For more information, please see the following:
March 29 Statement by House Judiciary Committee Chairman Bob Goodlatte
https://judiciary.house.gov/press-release/statement-house-judiciary-committee-chairman-bob-goodlatte-markup-h-r-1695-register-copyrights-selection-accountability-act/
March 29 Statement by the Copyright Alliance
http://copyrightalliance.org/news-events/press-releases/passage-register-copyrights-selection-hr1695/
First, Enter Your Zip Code