Urge Your Senators to Support S. 1273, the CASE Act!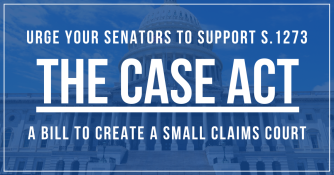 Urge Your Senators to Support S. 1273, the CASE Act!
Dear Creators and Friends of the Creative Community,
The time is now to support creators and the creative community! Urge your senators to support the creation of a small claims court within the U.S. Copyright Office by co-sponsoring the CASE Act, bill number S. 1273. The establishment of a small claims court would support countless professional creators and small businesses throughout the U.S. If you haven't contacted your representatives in Congress, now is the time to do so. And if you have contacted them, now is the time to remind them that the creative community needs their support.
For many photographers, illustrators, authors, songwriters, and other creators and small businesses that own copyrighted works, enforcing their rights is simply not feasible. Litigation is expensive and most of these creators can't afford to enforce their rights when their copyrighted works are infringed. To address this problem, the CASE Act was introduced in Congress to create a simplified process for resolving lower value copyright claims.
Organizations representing individual creators and small businesses have already voiced their support. Now it's vital that legislators hear directly from creators about the importance of this issue.
Please contact your senators to ask them for their support. We've provided a sample letter below that you can send, but we urge you to modify it (or use your own letter) so each letter has its own unique voice.
You can also call your senators using the list of phone numbers here.
And you can tag or direct message him/her on Twitter. Please click here, and then click on the twitter icon for your senators.
The important thing is to let your voice be heard on this important issue!